In Memory
Deb Danger (Peterson)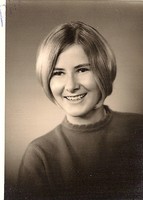 Deborah (Danger) Peterson, age 57, a resident of Maple Grove, MN, formerly of Spooner, WI, died on Saturday, November 29, 2008 at the St. Croix Health Center in New Richmond, WI.
Deborah Rae Danger was born on May 20, 1951 in Mora, MN the daughter of Orell William and Lois Maxine (Evenson) Danger. She was a 1969 graduate of Spooner High School. She met her husband, David Eugene Peterson in 1990 and they were united in marriage in Shell Lake, WI on December 23, 1996. She enjoyed spending time at the lake house on Middle McKinzie Lake, taking care of her two cats, reading, crocheting, movies and boating.
Among those who survive and gratefully shared her life are her husband of 18 years, David of Maple Grove, MN; son, Jason Wisner of Maple Grove, MN; daughter, Tracy (Tom) Christensen of New Richmond; 2 grandchildren, Zachary and Zoe; brother, Jonathon Danger of Shell Lake; sister, Lesley (Dave) Larson of Glenwood City, WI and several nieces and nephews. She was preceded in death by her parents and her brother, Kevin Danger.
Funeral Services for Deborah Peterson were held at 2:00 p.m. on Wednesday, December 3, 2008 at the Dahl Funeral Home with Pastor Mike Evans officiating. Visitation was from 1:00 – 2:00 on Wednesday prior to the service at the funeral home. Burial was private.