In Memory
Virgina Peck (Dennis)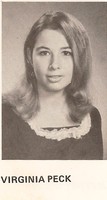 Virginia Mary Frances Dennis (nee Peck), 57, of Spooner, was taken to be with her Lord on Saturday, May 2, 2009.

She was born on May 16, 1951, to Herb Peck and his wife, Lucille (nee Durand), in Spooner.

She is survived by her husband, David Dennis; two sons and a daughter, Steve (Lisa) Dennis of Rice Lake, Rachelle (Tony) Johnson of Shell Lake, and Dave (Cyndi) Dennis of Haugen; nine grandchildren; her father, Herb Peck; two brothers and a sister, Jim (Carol) Peck, Lucy Anne Melton, and Jack (Katie) Peck, all of Webb Lake; and many nieces and nephews. Her soul is with the Lord, where she longed to be. With those behind remains the memory of a God-fearing, loving, and patient wife, mother, and grandmother. Hearts bow in tribute to the inner beauty, the sacrificing spirit, and the abiding faith in which the Lord kept her.

Visitation will be held from 5 to 8 p.m. on Wednesday, May 6, at Scalzo-Taylor Family Funeral Home in Spooner.

A memorial service will be held at 11 a.m. on Thursday, May 7, at the funeral home with Pastor Emory Johnson officiating.

Funeral arrangements were entrusted to Scalzo-Taylor Family Funeral Home.

Condolences can be offered at www.scalzo-taylor.com.