In Memory
Don Henning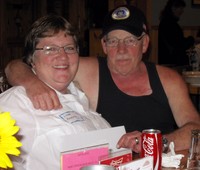 Donald R. Henning, age 64, of Hayward, WI went to be with the Lord Jesus on Saturday, March 21, 2015 at his home.

Donald Robert Henning was born January 4, 1951 in Shell Lake, WI to Ralph and Joanne (Andrea) Henning. Donald graduated from Spooner High School in 1969. In 1970, he joined the United States Air Force, serving his country honorably for four years with a tour in Vietnam. Through the military, he learned his profession of "Heating Systems Specialist". Donald worked in this profession for a total of 30-plus years before retiring.

He married his wife Linda Scanlon of Spooner, on August 4, 1984. Their love was like no other, a God-given love that never fails. Before marriage, they were reunited at a Spooner street dance in September of 1982. They were inseparable that night and Donald proposed to Linda on his Aunt Pearl Andrea's dock by the Yellow River. They shared of life of love for 33 years.

Donald was a man of strong faith. He enjoyed studying the Bible, sharing the Gospel with others and teaching his grandchildren and daycare children about their Savior. His other pastimes were spent with family and friends over coffee; he was a loving husband and father, and he will be forever in our hearts.

Donald is survived by his loving wife, Linda; sons, Noel (Gina) Penning and Aaron (Aurora) Penning; daughter, Rebecca Henning; granddaughters, Maggie Penning, Haley Penning and Jordan Penning; brothers, Brian Lewis and Kurt Henning; many cousins, nieces and nephews.

He was preceded in death by his parents and one brother Ralph Henning.

Donald's wishes were to not hold any formal services. The family's home is open for visits and condolence cards. Thank you for your prayers and support.