In Memory
Randy Leckel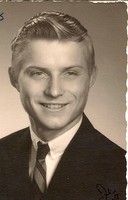 Randy Leckel, a resident of the town of Trego, WI, passed away Friday, September 3, 2005 at Lakeview Center in Rice Lake, WI surrounded by his family.
Randy was born August 14, 1951 to Harry John and Caroline Ann (Brown) Leckel in Spooner. Randy married Jean Marie Pittman April 21, 1977 in Spooner. They enjoyed 28 years of marriage. Randy was employed with the United States Postal Service as a trcuk driver for several years.
Among those who survived Randy was his wife Jean of Trego and one daughter, Angela (Anthony) Schoettle of River Falls, WI.
Burial was at the Rocky Ridge Cemetery, township of Evergeen, WI.