In Memory
Lois Clark (Moen)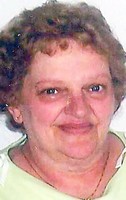 Lois Ann Moen, 65, of Minong passed away on Friday, Oct. 7, 2016, at St. Mary's in Duluth, Minnesota.
She was born on May 7, 1951, in Shell Lake to Charles and Dorothy (Frederickson) Clark. She graduated from Spooner High School in 1969 and worked as a candy striper.
She married Henry Moen in Spooner on June 22, 1974, and they raised a family. She worked as a certified nurses aide at Spooner Nursing Home for many years and then worked in home health care.
Lois loved to take casino trips with her friends and family. She loved spending time playing cards and baking for friends and family. She enjoyed joking around and making people laugh.
Lois is survived by her children, Keri (Darren) Moen, Teri (Wayne) Miller, Geri (Eddie) Moen, and Monica Moen, all of Minong; nine grandchildren, Deserae, Shyanne, Walker, Gage, Zoey, Landen, Sophie, Randall, and Anna; one sister Judy Clark, of Prairie du Chien; and one brother, Roger Clark, of Fall Creek; many nieces and nephews; and her best friend of 45 years Janet Lauterbach.
She was preceded in death by her husband, Henry Moen, in 2001; and her parents, Charles and Dorothy Clark.
A private ceremony will be held, followed by a Celebration of Life from 1 to 4 p.m. on Sunday, October 16, at the Village Hall in Minong for anyone wishing to attend.